Mineral Powder / Ore Dust / Iron Ore Briquetting Press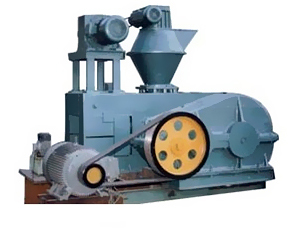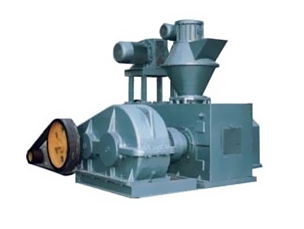 | | | | | | | |
| --- | --- | --- | --- | --- | --- | --- |
| specification | ZZG-299 | ZZG-368 | ZZG-522 | ZZG-738 | ZZG-760 | ZZG-860 |
| Diameter of roller(mm) | 299 | 368 | 522 | 738 | 760 | 860 |
| Width of roller (mm) | 180 | 183 | 196 | 210 | 225 | 300 |
| Power of prepressing motor(kw) | 7.5 | 11 | 15 | 18.5 | 18.5 | 22 |
| Power of main motor (kw) | 18.5 | 37 | 55 | 75 | 90 | 110 |
| Retarder | ZQ650 | ZQ850 | ZQ1000 | ZS1450 | ZS1650 | ZQ1650 |
| Capacity (t/h) | 0.5 | 1.5 | 3 | 5 | 8 | 10 |
High pressure dry powder briquette machine can make briquettes from a wide range of powdery materials, including carbamide, pigment, calces, plastic, chemical fertilizer, cryolite, coal, coke powder, clay, caustic soda (sodium hydroxide), alumina, active charcoal powder, ore dust, iron ore, magnesium powder, aluminum powder and many other mineral powder materials. Unlike ordinary briquettes, dry powder briquettes need no binder during briquetting process.
With this machine, mineral powder wastes can be recycled and compressed into useful and high-density briquettes which are small in size and convenient for transportation.
Raw Material and Attention
Lime, alumina/aluminium powder, magnesium powder, ore powder, coke, bauxite, pigment, cryolite, chemical fertilizer, caustic soda or Sodium hydroxide, clay, coke, coal etc without using binder.
Material should be less than 80-200mesh. 
There shouldn't be any metallic material in the raw material to avoid damaging the surface of rollers.
Sufficient supply of raw material to make perfect and good-looking briquette.
Detarils of Spare Parts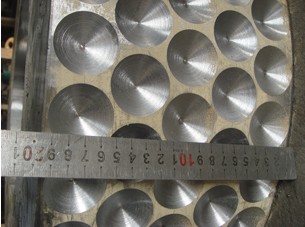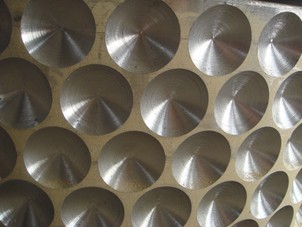 Final Dry Powder Briquettes:

Requirements on Briquetting Process Flow
Ensure the feeding system to be continuous, uniform and stable.
Since the hopper of the machine is filled with raw materials, overflow pass is necessary in the feeding system.
During the briquetting process, the exhaust port of the feed hopper on the briquette machine should be connected with dust removal pipes to make the gas discharged.
During the briquetting process, the new materials must be proportioned with some crushed and returned materials, if the returning materials are inadequate, it will be difficult for briquetting, especially for the materials hard to form briquette.
Working Principle: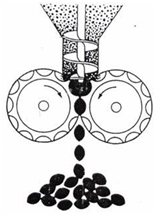 The working process of this machine can be divided into three parts – pre-pressing, pressing and de molding.
Pre-pressing: Above the rollers, there is a rotating screw device driven by variable-speed motor to pre-press the material.
Pressing: After pre-pressing, the material will be forced into the double rollers. This stage can also be called degassing.
Demoulding: After the mould closed, with the roller rotating, the briquettes will be demoulded automatically.
Want to know more about mineral powder briquetting press or ore dust / iron ore briquette machine? You are welcome to contact us for further information!
Products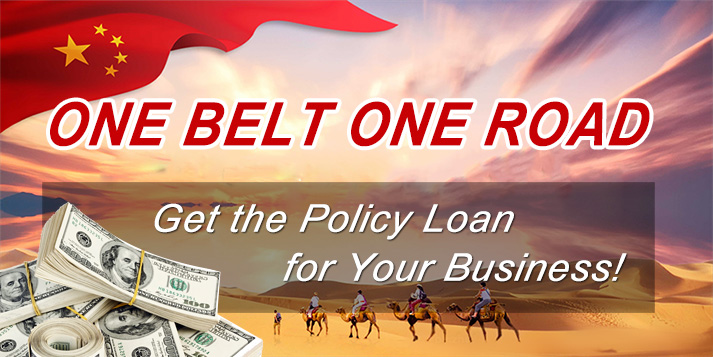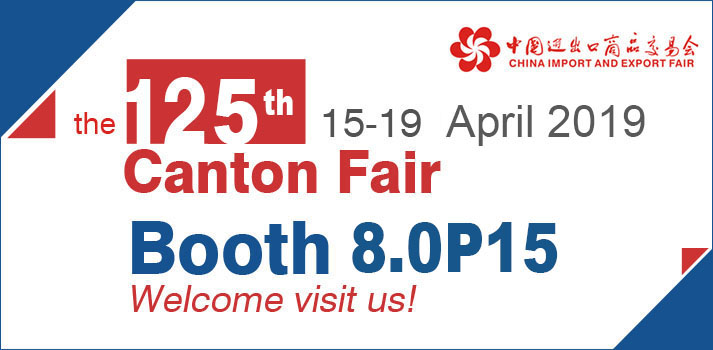 Briquetting Projects
Latest News
Featured Products
FAQs
Copyright © 2001- Anyang Best Complete Machinery Engineering Co., Ltd. All Rights Reserved.