What Can You Do with Buying a Wood Briquetting Machinery?
Wood briquette making machinery, mainly composed of a series of machines, is one kind of equipment used for processing the waste or residues of the wood production industry into useful fuel resources. The finally produced wood briquettes are widely used in home heating and cooking, renewable fuel production factories, or industrial power generation stations.


Low Cost Wood Briquetting Machinery for Sale
ABC Machinery is a professional manufacturer and supplier of complete sets of wood briquetting machinery, offering best quality and best price wood briquette machines and professional service from process design and equipment configuration. Welcome to contact us for more information.
Factory Price Wood Briquetting Machine for Sale
There are two kinds of briquetting machinery for sale on the market – punching or stamping type wood press machine and screw type wood briquetting machine.
Punching /Stamping Wood Briquette Press Machine Features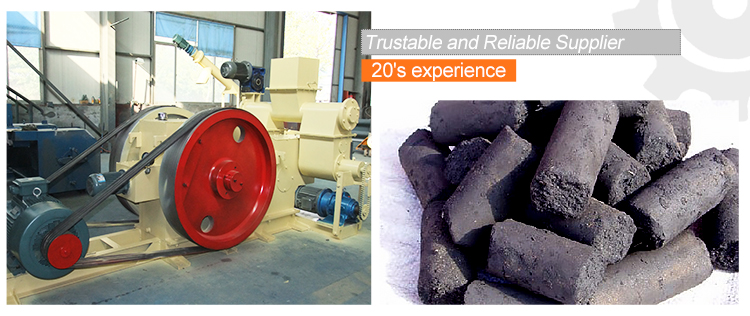 Briquttes Produced By Punching Briuqtte Machine
Punching type wood briquette press,maybe you have heard the other name piston press machine, it mainly uses the mechanical force to press the loose materials into high density solid cylinders with the same diameter and length. It can produce the briquette with the size of 8mm, 10mm, 22mm, 30mm, 70mm.
Screw Type Wood Briquetting Machine Features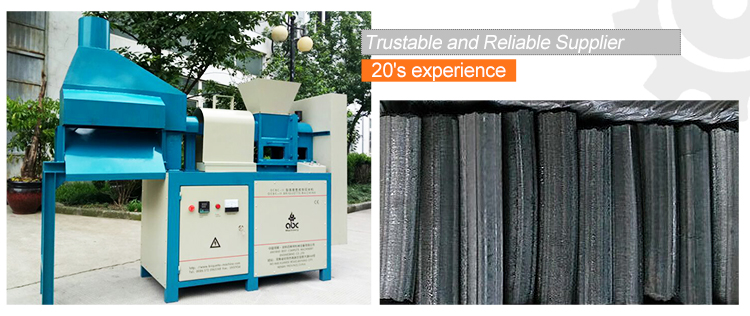 Wood Briquttes Processed Through Screw Briquette Press
Different from the punching type briquette press, the briquettes produced by screw wood briquette extruder have a concentric hole and have a larger specific area. Because of this, screw press briquettes have better a high combustion rate, do not disintegrate easily and are also homogeneous.

What Can You Do with Buying Wood Briquetting Machinery?
Due to the wide raw materials can be used for making wood briquettes with the wood briquetting machinery. so, you can do many things by buying wood briquettes and making equipment.
Dealing with Crop and Forestry Residues Better
It is well known that farms and forestry farms produce a large amount of agricultural and forestry waste every day, which is not easy to clean up and takes up space. Especially for those who have farms, it takes a lot of energy and money to clean up this waste every year. (Read more: sawdust briquette making machine>>)

Raw Materials for Wood Briquetting Machinery
With a briquetting machine, you can briquettes or rods, which are the same size and density, and can be stored and transported better for the next applications.
Making Green Briquettes Fuel for Sale
Clean energy has become an increasingly popular topic in recent years. With a wood briquette making machinery, you can turn waste into wealth. The wood briquettes produced are dense, have a high calorific value, low ash content and are harmless to the air. Thus, wood briquettes are seen as the best alternative of traditional energy fuel such as coal. When you set up a wood briquettes production factory to make green briquettes fuel for sale, there is a huge market as well as profit to be made. (Learn more: cardboard briquette machine>>)
With wood briquetting machinery, loose biomass materials (0.1 to 0.2 g/cm 3) can be compressed into density briquettes (1.2 g/cm 3).
Invest in Wood Briquettes Making Plant
Given that the briquetting industry is an unstoppable trend that will continue to catch fire and will contribute an increasing share of renewable energy marketing, briquetting machines are slowly appearing in various industries, such as, manufacturing industry, chemical, power generation industry and other industries which has large demand for renewable energy resources. Investing in wood briquette manufacturing is a nice choice for startups and senior investors. (Related article: briquettes manufacturing plant cost>>)

Punching Wood Briquette Press Machine Video
Making wood briquettes with wood briquettes making projects in The Czech Republic, Guatemala, South Korea, Japan, Thailand, Indonesia, etc., at low cost. By wood briquettes equipment manufacturer or supplier at factory price.
Products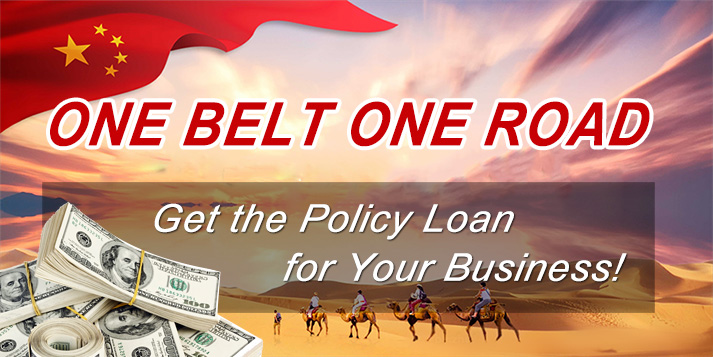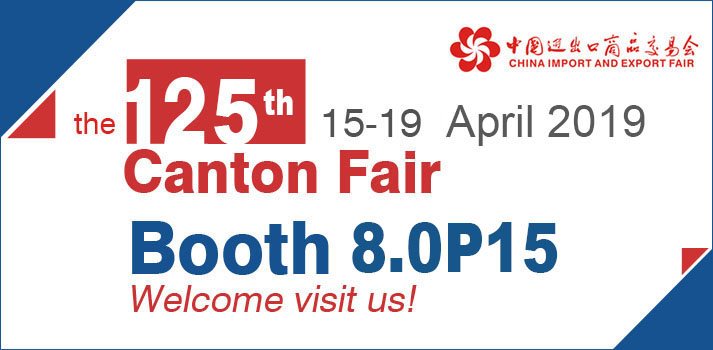 Briquetting Projects
Latest News
Featured Products
FAQs
Copyright © 2001- Anyang Best Complete Machinery Engineering Co., Ltd. All Rights Reserved.